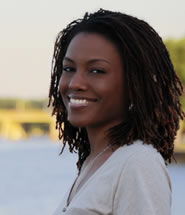 reflection:digital was started by award winning filmmaker, writer and web developer, Leslye PJ Reaves, in 2003. Leslye helps clients evaluate technology in the ever-changing digital landscape and develop effective web strategies.  She provides creative multimedia services for a diverse range of clients around the country.
Leslye has a B.A. in Film from Howard University and a M.A. in Multimedia from California State University, Hayward (now CSU East Bay). She speaks and teaches courses and workshops on topics ranging from computer art and digital video production, to web programming and design.  She co-directed the documentary, wtf: an okaymentary; is the co-founder of Tapestry Writers Collective, an online community for diverse writers; and serves as an editor of literary journal, The Quotable.
She currently lives in Baltimore, MD with her husband, Jared, pit bull, Sabyl, and aspiring feral cat, Sterlyng.